It is amazing how a quart of paint can change a room!
So much more modern!
A few year ago,
through the One Room Challenge
I updated our living room,
and it was quite good:
with new paint, new curtains and
some updates to our library.
But lately I found it was a little blend,
I started seeing dark colors back in style,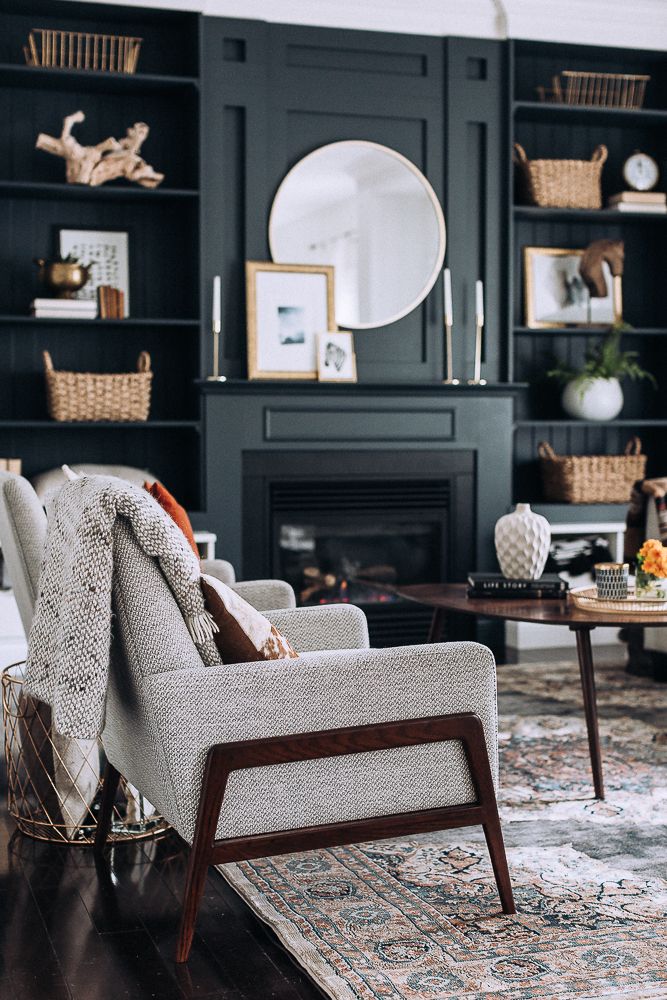 like this from Craftberry Bush
and I grew more and more tired of the white library.
So I decided to paint it blue.
It took a while to find the right blue:
(Lou is not a dog who likes to get her picture taken!)
Once I was happy with my blue,
I started painting the library
unsure if I wanted it all blue or just the bottom.
Stopping there allowed me to live with it
and decide that it was the right stopping point.
We have so many books, we barely see the color of the back.
We also decided to cut out cable, so one less black box
and more space for books.
I also added a extra shelf in the 2 large cubbies
making spaces for smaller books,
and a proper place for the dictionary.
I was concerned that I might not be able to find the same molding
that was used to build this library
since it was done at least 10 years ago,
(before we bought the house)
but it is in stock at the Home Depot,
so quite an easy project.
Mon Cheri thinks we should organize books by authors,
but I like them disorganized, with French and English mixed,
modern and classics willy nilly,
serious literature with YA novels next to each other!
To complete this wall,
I sewed two more panels for the small side window,
while it is small and does not require as much fabric,
it does take the same amount of time to sew them!
But once again, such a great change,
it makes me wonder why I stopped at that window,
actually I know, I was tired of making curtains!
(dog pillow here)
Happy day!